Know Your Money – How
COVID-19 is Affecting Small Businesses
What Can You Do To Protect Your Business and Your Family?
The novel coronavirus, COVID-19, has torn through America's states, cities, neighborhoods, and small towns as a silent and invisible enemy. This virus has shattered the once soaring financial market, and even the most veteran of investors say the recent turbulence is unlike anything they've ever seen. The current volatility doesn't allow for future projections based on historical figures. Some
even say American companies looked better right before the Great Depression than they do now.
So, what happens next? How can you prepare to weather this storm? Is there any relief on the way?
How Has COVID-19 Has Affected Small Business?
The recent pandemic has left no part of our planet or our lives untouched, including small businesses across America. From a significant drop in business to outright closure, things are rapidly changing, leaving small business owners needing to adapt.
According to a CNBC analyst, up to 15,000 retail establishments could close permane
ntly in 2020, erasing as many as three million jobs before summer. This data is becoming a stark reality for many of America's small business owners. According to a survey by Goldman Sachs, half of respondents stated they may not last three months amidst current conditions triggered by the outbreak.
What Can You Do During COVID-19 to Protect Your Employees?
During times of unprecedented crisis, your employees look to you for guidance and comfort. While concrete answers are difficult to come by, there are many resources for business owners and staff. You should also consider creating a brand-new business plan that speaks to both your employees and your business as a whole and he
lps everyone see a better, overall picture of how to move forward.
To keep everyone on the same page, you should address the following in the coming months:
A resolution
Speak directly to the challenges your employees, customers, shareholders, and vendors are experiencing during this time, and provide answers as detailed as possible. Help employees facing layoffs understand their rights under the current.
Resilience
What short-term cash flow challenges do you and your employees face? How will these be addressed? How will you address broader issues, such as overall company resiliency?
Pathway to sustainability
Address in detail your plans to reopen and how you can do so quickly and efficiently.
Reinvent
What will your small business' new "normal" look like? Will there be different work hours than previously? What are the implications of totally reimagining your goals and mission statement?
Reform
The landscape of your entire industry could change – what do you foresee as new regulations or governmental roles within your industry? Address how you would accommodate reformations if necessary.
Gather insight from your employees and ensure, to the best of your ability, that you've addressed all concerns.
The CARES Act – What does it mean for small business?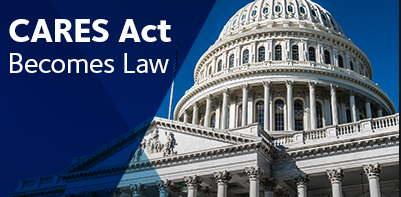 Although it may take some time to feel the relief, the government has created a plan to help businesses get through the current crisis – the CARES Act. Overall, the CARES Act was designed to inject much needed capital into business, state & local governmental agencies, as well as provide assistance to the many people who have experienced a reduction or total loss of hourly wages. One of the most important aspects of the CARES Act, the Paycheck Protection Program (PPP) is in response to the millions of people suddenly unemployed.
The PPP is a large chunk of the COVID-19 CARES Act and is the most important for small business owners. If you have any experience with the existing SBA loan program, the PPP is modeled similarly. Using the existing lenders, this program allows for emergency loans to small businesses so payroll processing is not interrupted through June 2020. The program is meant as an incentive to employers that do not layoff their employees, and to re-employ any employees who were laid off due to the coronavirus.
You can find answers to many of the questions you might have on this FAQ sheet, but below we've chosen some of the most popular questions:
What kinds of businesses qualify?
Small companies with less than 500 employees
Some companies with less than 1,500 employees
All 501(c)3 not-for-profit organizations with less than 500 staff members
Self-employed individuals
Sole proprietors
Businesses do not need collateral for this loan as long as they were doing business on or before February 15, 2020.
What is the loan limit?
The max amount you can receive under the PPP is $10 million. Your interest rate with be 4% or less, and interest fees will be deferred for at least six months but no longer than 12 months.
Your loan can be forgiven in most instances, such as if you continue paying employees at the same rate previous to the crisis for the full eight weeks after obtaining the funds. This amount, plus any amounts spent on mortgage or rental and utility payments, won't have to be paid back.
Final Thoughts
The CARES Act puts small businesses front and center offering several avenues for assistance during the coronavirus crisis.
If you live in California and have any questions, you can reach out to the office of Congressman Ken Calvert. His office asks that you call the office directly at 951-277-0042 if you are having troubles with any federal agency.